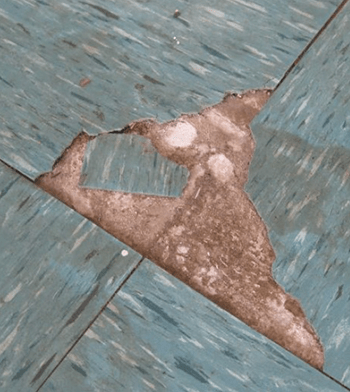 25 Jun

Asbestos in vinyl flooring
Asbestos in vinyl flooring
Asbestos in vinyl flooring, asbestos vinyl products have been used since the 1920s. Vinyl sheet wallpaper was first introduced in 1920, while vinyl floor tile and vinyl sheet flooring were introduced in the 1950s vinyl asbestos floor tiles were manufactured in three sizes.
9 inch x 9 inch
12 inch x 12 inch
18 inch x 18 inch
While the use of asbestos in vinyl materials was largely phased out during the 1980s because of health concerns, many older homes, commercial buildings and schools still contain asbestos vinyl products. Asbestos in vinyl products becomes dangerous when fibers are released and become airborne.
Normally, if the material is in good condition, it does not pose a threat. The asbestos is enclosed in vinyl, preventing the fibers from escaping. Tile products are considered non-friable this means that the product is not easily broken by slight pressure.
However, cutting, sanding or disturbing damaged tile can result in the release of asbestos. If inhaled or swallowed over a long period of time, the fibers can cause a number of serious illnesses such as asbestosis and mesothelioma the adhesives used to install these products also contained asbestos, though the fibers in adhesives are less likely to become airborne.
Protect your family from potential asbestos risks
Asbestos in vinyl sheeting was used for many years as a floor covering in buildings due to its superior durability and chemical resistance.
There are similar looking vinyl sheet flooring products that do not have an asbestos backing.
Asbestos-backed vinyl sheet may have also been applied to work bench tops
Vinyl sheet flooring is generally safe and does not present a health risk, because the asbestos containing material is compressed and encapsulated (sealed) under the vinyl sheeting
Minor defects such as cracks, peeling or small worn patches may cause asbestos to become airborne.
Cutting, sanding or disturbing damaged tile can result in the release of asbestos
It's easy to accidentally breathe in the action of ripping up lino releases asbestos fibres into the air
Ripping up lino is easy and feels satisfying, home renovators will often do it themselves without considering the risks of asbestos
Just remember tempting as it might be to just start ripping up that grotty old lino, a little bit of patience can protect your family from a potentially big risk
Remember
It pays to know how to identify asbestos in vinyl flooring using a professional to inspect tiles before you remove them yourself will protect your family from potential asbestos risks
For your building, pest, strata, asbestos, mould, ventilation, drainage, safe house inspection requirements call Sarah at East Coast Building Inspections 0422 081 023 servicing Wollongong, Shoalhaven, Southern Highlands, Ulladulla, Sutherland & Eurobodalla