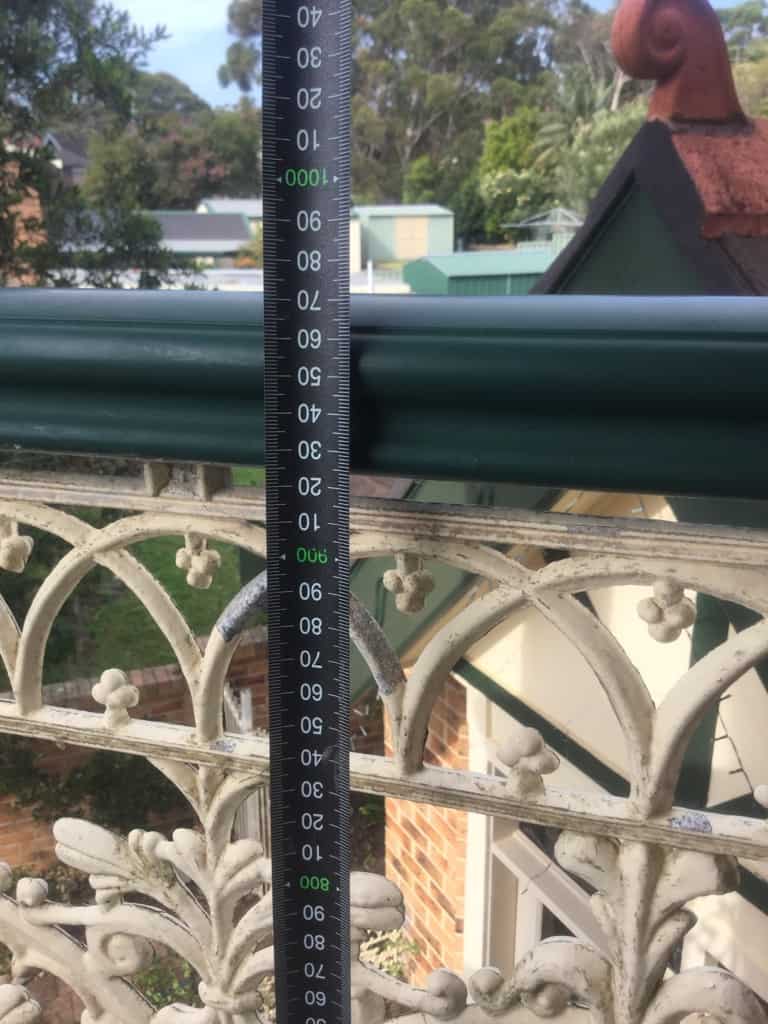 12 May

Balustrade to veranda's, decking, balconies and any internal void area's
Balustrade height requirements in New South Wales
Balustrade's  & our outdoor / indoor entertaining around the home is a popular part of life in New South Wales & Australia.
Our weather and lifestyle are ideal for enjoying the outdoors at home while relaxing and entertaining with friends and family. Many Australian's homes have decks, balconies, veranda's, outdoor & indoor areas of entertaining that included in the original design and construction or as part of renovations and additions.
Does your balustrade meet Australian standard's
1m above the floor of any access path, balcony, landing where it is not bounded by a wall and its level above the surface is 1m or more than 4m where a person is able to fall through an open window
865mm above the floor of a landing to a stair or ramp where the balustrade or other barrier is provided along the inside edge of the landing and is not more than .500mm long.
A transition zone may be incorporated where the balustrade or barrier height changes from .865mm on the stair flight or ramp to 1m at the landing.
Any structure that is (1 meter) or higher above the surrounding ground requires a barrier (balustrade) to protect people from falling over the edge.
The minimum height for a balustrade is (1 meter). It can be higher if you like.
 Balustrade must be constructed so that a sphere of .125mm diameter cannot be passed through any holes or gaps in the structure.
A balustrade protecting a fall greater than 1 meter can be frame less, but it requires a top rail that will meet the load requirements
Balustrade must be constructed so that it withstands a load of approximately 75 kilos per meter when applied to the top rail
If the fall from the deck to the ground below is greater than 4 meters, the balustrade must have a non climbable section from 150mm above the deck to 760mm above the deck. This means you cannot have horizontal rails or protrusions greater 10mm that would enable a foothold. In practical terms it means you require vertical bars or glass.
The minimum height on stairs is 865mm vertically above the nose of any stair. This height can transition to the 1m on the landing of a stair
The minimum height for infill (the structure between posts) or in the case of frame less glass – the glass, is 125mm measured from the nose of the stair, the shortest distance to the infill (perpendicular)
Unfortunately, there have been a number of recent incidents in New South Wales  and other states in Australia involving balconies and decks that resulted in injury and death. All veranda's, decking, balconies and any internal void area railings must be a minimum height of 1 meter high for compliance with the most recent Australian Standards If under 1 meter this is a safety hazard.
Have you been looking for a high-quality Internet project for a long time?
slottica casino
is a find in the world of online gambling. They are the only ones who tried to surprise their players not with bonuses, but with the conditions of the game, honesty and quick conclusions.
To prevent people from falling, a continuous balustrade or barrier must be provided alongside any stairway or ramp, any floor, corridor, hallway, balcony, verandah, mezzanine or path of access to a building if it is not bounded by a wall or any level more than 1 meter above adjoining floor or finished ground level. It is important to note that the measurement of the height of the balustrade or barrier is from the finished floor surface. Finishes such as ceramic tiles and even carpet can make a significant difference to the finished floor height.
For your building, pest, strata, asbestos, mould, ventilation, drainage, safe house inspection requirements call Sarah at East Coast Building Inspections 0422 081 023 servicing Wollongong, Shoalhaven, Southern Highlands, Ulladulla, Sutherland & Eurobodalla