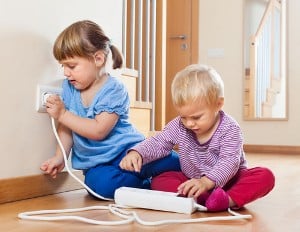 18 Jun

Electrical safety safe house kids
Electrical Safety
Electrical safety electricity is amazing stuff it can power everything from your iphones, ipad's, gaming consoles, buildings, city's, even cars. However, electricity can be dangerous and as we get more comfortable using it, we can also become more complacent.
Electrical safety tip's for around your home
Never put an object into a power point (other than a power plug).
Don't overload one power point or power board.
Use plug caps when you have small children in the house.
Pull from the plug, not the cord.
Never put metal objects in the toaster.
Don't put objects containing metal in the microwave. Watch out for gold-lined cups and plates as well as kitchen foil.
Never touch a worn, frayed or damaged electrical cord. If you find one, tell an adult immediately.
Damaged or worn cords, damaged or worn cords are the most common cause of electrical accidents.
Never use electrical appliances if you're wet, standing in water or near water.
Never put drinks on top of your video game console or other electrical devices.
Keep electrical wires and appliance cords away from heaters.
Always turn off a light at the switch before changing a globe.
Stay away from power lines. Never climb trees near power lines or touch power lines if they fall.
Don't use kites, balloons or remote-controlled drones or planes near power lines.
Never throw things onto power lines.
Stay away from transformers and electricity substations.
Never swim during a thunderstorm.
Never plug in an electrical appliance near a pool
Water and electricity do not mix
Always clean up water spills on the floor
If liquid spills into an electrical appliance, unplug it and have it checked by a licensed electrical contractor before using it again.
Never leave electrical appliances unattended around children
Remember if you're not sure, ask an adult!
Adults its important to teach electrical safety
Electrical safety for kids is really important kids don't always understand its dangers, so it's important to teach them how to take charge of their electrical safety. Adults check appliances regularly and stop using an appliance immediately if it becomes faulty. Ensure it's checked by a licensed electrical contractor before using it again.
Install a circuit breaker
Install a circuit breaker if your home doesn't already have a circuit breaker call a electrician and have one put in place. This type of detector monitors the electricity flow within your home. If it detects an interruption, it instantly cuts off the power supply.
 First Aid
First aid for electric shock switch off power before touching the child. Use a non-conductive material to remove the child from the electrical supply e.g. wooden broom handle. If the child is unconscious commence resuscitation and seek medical assistance. Across Australia estimates show that 15 people are killed and about 300 seriously injured each year in avoidable electrical accidents in homes 13 per cent of these occur in children aged 0–14 years.  .
For your building, pest, strata, asbestos, mould, ventilation, drainage, safe house inspection requirements call Sarah at East Coast Building Inspections 0422 081 023 servicing Wollongong, Shoalhaven, Southern Highlands, Ulladulla, Sutherland & Eurobodalla