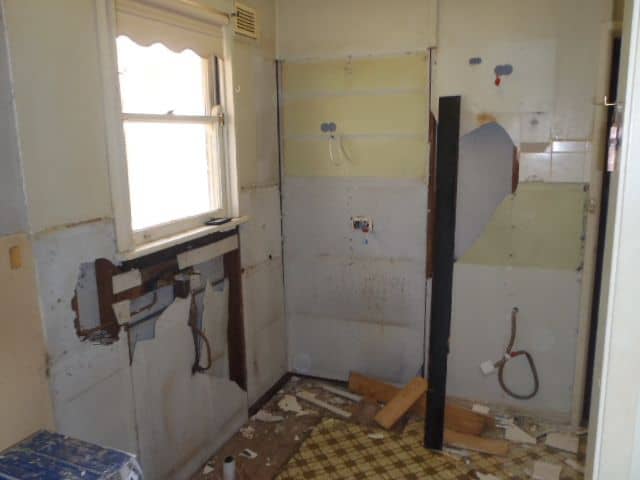 05 May

Renovating is asbestos in your bathroom
Renovating your bathroom
Be careful when renovating your bathroom asbestos could be in your bathroom this could be a major health hazard for you, your family & your neighbors, if you don't identify asbestos before renovating your bathroom the cost of fines & the clean up bill could run into the 10's of thousand's.
Removal of more than 10m2 of ACM must be carried out by licensed contractors. It has been a requirement since 1st July 2012 that after removal of all bonded asbestos, the contractor must obtain a Clearance Certificate.
The safest option is to have your bathroom tested and cleared by an asbestos professional before you start demolishing and renovating, regardless if you're using professional tradespeople or not.
New South Wales use was discontinued in all fibro sheets and products by the mid 1980s. After this, asbestos continued to be used principally in friction products, for brake and clutch linings. Manufacture and use of asbestos products was banned nationally in Australia from 31 December 2003.
If your house is built around this time & your thinking about renovating your bathroom you should have a asbestos inspection completed before you start.
Some of  the places where you will find asbestos when renovation a bathroom
Floor sheeting
Wall sheeting
Ceiling sheeting
Window packing
Door packing
Vinyl sheets flooring
Waterproof membrane
Lagging on pipping
Window putty
One of the main areas asbestos in your house can be found is in the bathroom.
Importantly, if you suspect you have asbestos in your HOME
Don't cut it! Don't drill it! Don't drop it! Don't sand it! Don't cut it! Don't scrape it! Don't scrub it! Don't dismantle it! Don't water blast it! Don't demolish it! Don't dump it!
For your building, pest, strata, asbestos, mould, ventilation, drainage, safe house inspection requirements call Sarah at East Coast Building Inspections 0422 081 023 servicing Wollongong, Shoalhaven, Southern Highlands, Ulladulla, Sutherland & Eurobodalla