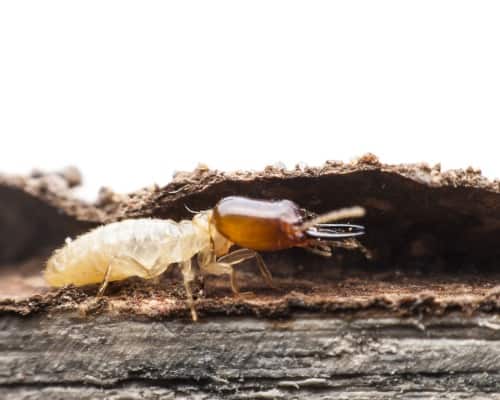 20 Jun

Termite damage how you can see the signs
Termite damage how you can see the signs
Site
Walk around checking under any loose timbers for active termites check stumps, trees, retaining walls any timbers that are in contact with the ground. Even exposed treated timbers will become susceptible to termite damage at some stage. Check under garden bed plastic especially if it is next to your home, termites love to travel under it.  Store mulch, firewood and wood chips away from the home to avoid creating moisture-rich habitats for termites to survive and thrive. Remember, they love moist areas.
Exterior
Walk around the perimeter checking each weep holes, vents, exterior trims doors windows, garden beds that are against the exterior of the building anything that is covering a entry point to the structure of the building, subterranean termites build mud tubes on surfaces such as a home's foundation, to provide moisture while they are searching for food. Dry-wood termites can enter through openings only millimeters wide, so monitor and seal any cracks in the home's foundation and near roof siding, vents and windows.
Interior
Use a large screwdriver hold it by the metal end and lightly tap along all exposed timbers inside, checking for a hollow sound. Any timbers you cannot reach, run a torch light over the surface looking for any visible defects.
Sub Floor
The sub floor is particularly susceptible to subterranean termite damage many older homes do not have adequate ventilation or drainage which can allow excess moisture to build up inside check along the entire ant capping in the sub floor ant capping is only a point of detection not a deterrent. If you have a suspended floor check each pier & all brick work  for "leads or workings" that might be travelling into the structure this is not a easy task & we recommend leave this to your professional licensed & qualified pest inspector.
Roof Void
You have to get up into the roof with a torch and check the top plates and trusses for any damage check above the bathroom, ensuite, kitchen where any wet you poor drainage area below is, this is not a easy task & we recommend leave this to your professional licensed & qualified pest inspector.
Other Signs
Reproductive termites called swarmers take flight to create new colonies, subterranean termites typically swarm in the spring, whereas dry wood swarms are less predictable. If you see a swarm of insects or groups of discarded wings, call your professional licensed & qualified pest inspector.
Termites prefer to be in dark, humid environments, so they do not typically feed on the surface of wood, where they would be visible to the human eye. In fact, the wood's surface might appear smooth, even if termites are inflicting damage. If wood sounds hollow when tapped, it may be because termites are eating the wood from the inside out.
If you think you have termites
If you think you have active termites never pierce the timber & never disturb them they will flee back to their nest and we would have lost the opportunity to treat them call  your professional licensed & qualified pest inspector.
The most effective way to prevent termites
The most effective way to prevent termite damage is to work with a licensed termite inspector who can provide annual inspections and recommend prevention and control methods when needed. Since termites can damage homes with few signs of activity, it is important to hire a professional for help discovering termites before they can cause significant structural damage.
For your building, pest, strata, asbestos, mould, ventilation, drainage, safe house inspection requirements call Sarah at East Coast Building Inspections 0422 081 023 servicing Wollongong, Shoalhaven, Southern Highlands, Ulladulla, Sutherland & Eurobodalla